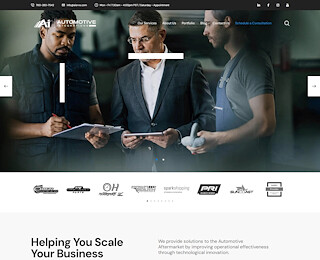 Getting Started With Sage Business Tools
As experts in automating and streamlining business processes, Automotive Integrations doesn't merely stop at offering bespoke software solutions for inventory management or website building. We understand that modern businesses require a multifaceted approach to efficiency and profitability. For that very reason, we have expanded our service portfolio to include integration services for Sage Business Tools. These suites of software tools cover everything from accounting and finance to human resource management, offering a comprehensive toolset designed to enhance productivity and boost profits.
Introduction to Sage Business Tools
Navigating the competitive business landscape calls for strategic planning, careful execution, and the right set of tools. Sage Business Tools is a collection of software solutions offering a comprehensive range of services such as accounting, project management, customer relationship management (CRM), and even specialized industry solutions. At Automotive Integrations, we bring our depth of experience to help you select and integrate these tools seamlessly into your existing system. You're not just buying software; you're investing in a complete business solution designed to deliver immediate and long-term benefits.
The Benefits of Integration
In an age where data is gold, having disparate systems handle different aspects of your business isn't just inconvenient–it's a missed opportunity for insights and efficiency. When Sage Business Tools are integrated into your existing systems, they communicate and collaborate, delivering unified insights, reducing data redundancies, and speeding up processes. The interconnectedness ensures that each department in your organization is on the same page, offering cross-functional insights that are invaluable for decision-making and operational efficiency.
Why Work With a Professional Company
Although the software itself is designed to be user-friendly, integrating it into an existing system is not a plug-and-play affair. It requires an understanding of system architectures, data mappings, and workflows. This is where Automotive Integrations excels. Our team of experts assesses your existing infrastructure and specific needs to develop a tailored integration roadmap. Our value isn't just in providing a service; it's in guaranteeing a seamless transition with minimal disruptions to your ongoing business activities.
Comprehensive Consultation and Planning
Getting started with Sage Business Tools involves more than just installing software. A proper setup entails an initial consultation and planning phase where our experts examine your existing system architecture, processes, and requirements. We prepare a detailed project plan, ensuring that there are no surprises down the line. This plan isn't just about the technical aspects of integration but also involves training your staff, setting key performance indicators (KPIs), and ensuring that you can hit the ground running once the integration is complete.
Choice Matters: Why Choose Us
While there are numerous service providers in the market, Automotive Integrations offers an edge that's crafted from years of experience and customer-focused solutions. We offer round-the-clock support, both during and after the integration process, and remain committed to your success. Our reputation is built on long-term client relationships, and our goal is to become not just a service provider but a trusted partner in your business journey.
Customization and Scalability
Every business is unique, and a one-size-fits-all approach hardly ever yields the best results. Automotive Integrations offers customized solutions to meet the specific needs of your business. And as your business grows, your Sage Business Tools can grow with you. Our solutions are scalable, meaning you won't outgrow the system; instead, the system can evolve to meet your expanding needs.
Data Security and Compliance
Data is not just an asset; it's a liability if not properly secured. Automotive Integrations ensures that your Sage Business Tools integration complies with industry standards and regulations for data security. From data encryption to secure channels for data transfer, we make sure that your business data remains confidential and secure.
Post-Integration Support and Training
Once the integration is complete, our responsibility doesn't end. We offer post-integration support services that include troubleshooting, regular updates, and employee training programs. Our training ensures your team is fully capable of utilizing the new system to its fullest potential, thus ensuring you get the maximum return on your investment.
Ongoing Assessments and Upgrades
The business environment is dynamic, and your tools should be, too. Automotive Integrations offers ongoing assessments and system upgrades as part of our service contract. These aren't just about fixing bugs but involve adding new features, improving system performance, and ensuring you are always ahead of the curve.
We encourage you to explore the wealth of free resources available on our website. From comprehensive user guides to video tutorials and case studies, you'll find a range of materials designed to help you make an informed decision. If you have further questions or specific needs, please don't hesitate to reach out to our experienced consultants for personalized guidance and solutions.